CNN Analysis: 
Some college athletes play like adults, read like 5th-graders
OK.  So now that the Super Bowl Hype and parties are over…Oh, wait, discussions of the game, the coaches the players, the ads ought to be worth another week, right?
We love our sports and our athletes in this country, and having a son who stepped very briefly into the world of professional sports, I have huge respect for the talent and tenacity that it takes to become a college or professional athlete.
On Jan. 8, 2014, CNN Schools of Thought ran an analysis that showed that 7 – 18% of basketball and football players in many public universities read poorly.  http://www.cnn.com/2014/01/07/us/ncaa-athletes-reading-scores/index.html?eref=mrss_igoogle_cnn
It's hard to understand how bright, talented students, whether their talent is in sports, the arts or some other area, can have reading problems.  If they're so good in other arenas, doesn't it follow that they would be able to do something as basic as reading?
In her research, Patricia Lindamood discovered that about 30 percent of the population across the board has some degree of difficulty with the auditory processing skill that supports being able to use phonics for reading and spelling.  This means that 3 in every 10 kids in school today, are struggling to some degree with reading and spelling.
At Stowell Learning Center, we see a lot of those children and adults, many of whom are talented artists, athletes, "inventors", actors, dancers, etc.  The list goes on and on.  These are bright, talented people struggling with reading.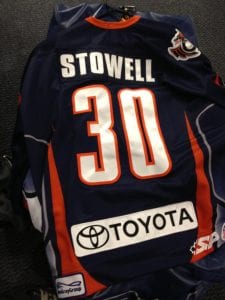 Reading is so enmeshed in our lives and our world that challenges with reading make life harder.  No matter how good you are on the field or the court; when you take off your cleats and sit down to do your homework, reading problems can deal an agonizing blow to your confidence and self-esteem.
Here's the great news that came out of Pat Lindamood's research and subsequent brain research:  the underlying skills that are critical to efficient reading and learning can be developed through specific and targeted brain training.
Children and adults do not need to continue to be hampered by reading or learning challenges.  The gap can be closed between the performance on the field and performance in the classroom.  Is it a quick fix or a magic pill?  No.  Is it possible without taking forever?  Absolutely.
If you or someone you know is struggling with a reading or learning challenge and you would like to better understand the root and the solution to the problem,
JOIN US for a Parent Information Night at our Chino or Irvine Center.  For information and RSVP:  www.learningdisability.com   
Resource available at amazon.com or by visiting one of our centers:
Ready to take the next step?
Speak to a Learning Specialist to learn more about the results from students and parents at Stowell Learning Centers.