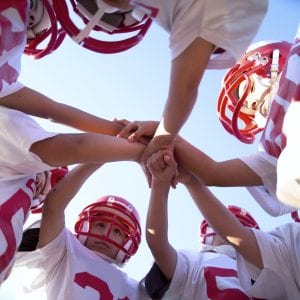 I'm not really a football fan, but I have to admit, the sound of football on TV brings a smile to my face.  It signals the end of summer and the beginning of autumn.
Don't get me wrong, I love summer, but each new season, especially Fall, seems like a new beginning – a fresh start.
Starting school was always a big deal in our family – new clothes, new routine, and excitement and a little trepidation over who the new teacher would be,
By the end of this week, nearly all students will be back in school.  This is a great time to establish new routines.  If your child was always late last year, this is a good time to plan a new and more efficient morning routine.  If fitting homework in around all the other commitments and activities was a challenge last year, now is the time to create a different habit.
Fresh Start – New Habits
It's always easier to put a new structure in place when you have a natural break in old routines.  Summer provides that, making Fall the perfect time for a fresh start.  Here are some suggestions:
1.Make a morning checklist – When our son was in 4th or 5th grade, we created a checklist for him of all of the things he needed to do to be ready for school.  He played ice hockey, so we put a picture of a hockey player on the paper with the list.  The lists were posted in strategic places around the house (closet door, bathroom mirror, the door heading out to the garage).  This reduced nagging and increased independence.
Building the list together will help with buy-in.  You can even add the amount of time each task should take.  The child can time himself to keep himself on track and to make it more of a personal competition. Boys, especially, are much more willing to engage if it's something they can beat or win – even if beating their own time.
2.Schedule in homework time  – Determine about how much time homework should take for your child's grade and skills.  Schedule that amount of time into each day of the week.  Actually write it on the calendar  (this makes it more "legitimate") and agree as a family that it will be undisturbed time for homework only.  If a sports practice or doctor's appointment is going to infringe on that time, be sure to reschedule the homework time in another slot on that day.  Again, actually write it down so that everyone knows exactly what to expect.
Hope is Not a Strategy
I often speak to parents who look at the new school year a new opportunity for things to miraculously come together for their child or teen who has traditionally struggled in school.  Maybe with a different teacher or a little more maturity, this year will be better.
Unfortunately most learning or attention challenges will not just go away with time.  Certainly the right teacher can bring out the best in a child and make the year better, but actually eliminating the learning challenge is not likely to happen without specific and intentional intervention.
The great news is, that brain and clinical research lets us know that it is possible to dramatically improve or permanently correctly diagnosed and undiagnosed learning disabilities, including dyslexia.
To better understand your child's learning needs / challenges and what can be done to help, join us for a FREE Parent Information Meeting.  Go to www.learningdisability.com for details and RSVP.
For FREE WEEKLY HOMEWORK TIPS, go to www.learningdisability.com
Ready to take the next step?
Speak to a Learning Specialist to learn more about the results from students and parents at Stowell Learning Centers.