"Can you hear me now? Wait…What?…You're cutting in and out."
Recognize this conversation?  Of course, you do.  We've ALL experienced a bad cell phone connection.  And it's incredibly irritating!
Can you imagine what it would feel like to spend your whole day, everyday, listening through a bad cell phone connection? Think about how lost and anxious you would feel?  Thankfully, a call back on a cell phone usually solves the problem.  But for children and adults with auditory processing problems, this may be just the way life is.
Auditory processing has a profound impact on learning, but, it can mask as other difficulties, such as attention problems, poor comprehension, trouble reading, or weak language or social skills.
What is Auditory Processing?
Auditory processing is not your hearing, but how the brain perceives and thinks about the information that comes in through your ears.
If you think about learning like a continuum or a ladder, academics and social skills are up at the top. The rungs on the ladder are the supporting learning or processing skills.
Auditory processing is on the processing skills "rung."   When you look at how the continuum builds, you can see that weak auditory processing can get in the way of fully developing Executive Function skills and affects comprehension, reading, academic, and social skills on the rungs above that.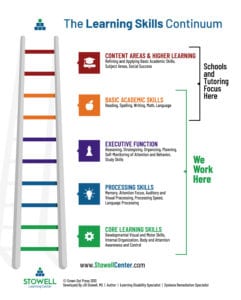 In our experience, most students who are underachieving or struggling socially or in school have challenges with auditory, or listening, skills.  Thankfully, because of the brain's neuroplasticity, auditory processing skills can be stimulated and retrained.
Remote Schooling Tips
In this unusual time in history, we want to give our students every opportunity to succeed in spite of the unique circumstances and adaptations.  Here are 10 tips for supporting your child or student with auditory challenges:
Brighten your child's screen so they can see the teacher's face more easily.
Using over the ear headphones will help the student get clearer sound and will help block outside noise.
Make sure your child's face is well-lit so the teacher can see if your child looks confused.  And teachers, make sure your face is well lit!  Your eyes and facial expression support comprehension.
Parents, see if the teacher can also provide you with written information in case your child misses something.
Teachers, use visuals whenever you can to support the learning.  Try using a document camera.  This relatively inexpensive camera plugs into your computer and allows you to show students exactly what you're doing or what you are talking about.
Remember that listening is fatiguing for your student.  Give short breaks to get up and move.  If your child is yawning continuously, they're overloaded and need a break.
Have water on the desk.  Water is energizing to the brain.
In general, if you have something important to tell your child with auditory issues, don't say it on the fly.  Get their attention and look them in the eye.
Slow down your speech by taking slightly longer pauses between phrases.  You will still want to speak fluently, but pause a second longer at punctuation).
Don't assume they have it.  Find ways to have your child repeat or verbally rehearse the information.
Jill Stowell, M.S.
Author, At Wit's End A Parent's Guide to Ending the Struggle Tears and Turmoil of Learning Disabilities
www.stowellcenter.com
Ready to take the next step?
Speak to a Learning Specialist to learn more about the results from students and parents at Stowell Learning Centers.