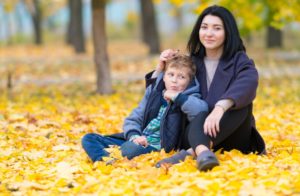 Recently the mom of one of our former students emailed me and said, "We are still so grateful for all that Donovan learned from attending the learning center.  He just thanked me a few weeks ago for sending him to the Stowell Learning Center."  How cool is that? If you are a parent trying to understand and get help for your child's challenges with learning or attention, having your child thank you may be a long way off. But pat yourself on the back for your commitment and persistence. Most learning and attention challenges can be dramatically improved or completely corrected by identifying and developing the weak or inefficient underlying processing or learning skills that are the real root of the problem. When even one rung on a ladder is unstable, it can make doing a job at the top of the ladder difficult.  This is how we think about learning – like a ladder with visual, auditory motor, attention, memory, and many other skills as the rungs; and academic, school, and social skills at the top. When you persist in finding the right help; doing the driving, the waiting, and the encouraging; you are giving your child the
gift
of greater success, confidence, and independence.  And one day, that "Thank you" from your child will come.  Well done, Parents! We are so grateful at Stowell Learning Center to get to partner with our truly awesome parents!
If you are still in the process of searching for understanding and the right kind of help,
CALL us today at 877-774-0444 to speak with someone about your child.
"Helping smart but struggling students dramatically improve or completely correct their learning and attention challenges by developing the underlying learning skills that are not supporting the learner well enough."
We serve children and adults with diagnosed or undiagnosed learning and attention challenges including underachievement, learning disabilities, dyslexia, ADHD, auditory processing disorders, and autism spectrum disorders.
Jill Stowell, M.S.
Author:  At Wit's End A Parent's Guide to Ending the Struggle, Tears, and Turmoil of Learning Disabilities
Founder and Executive Director – Stowell Learning Centers