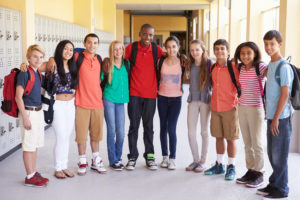 In Southern California, we are the very definition of a "melting pot."  We have people of every color, culture, and religion from every part of the world.  I love that!  I think it makes us interesting.
One of the things I've noticed, working with thousands of families who are dealing with learning and attention challenges, is that no matter what differences are evident on the surface, parents are parents.  If their child is suffering, so are they. They shed tears over their kids, they search for answers, and they willingly sacrifice to help.
Last week we talked about how struggling in school makes smart students feel like they're "different."  The truth is dyslexia, learning disabilities, and attention challenges do make them different.
But in the most fundamental ways, they are not different at all.  Like everyone else, students with learning and attention challenges have good innate intelligence and their own set of talents or abilities.  They want to do well, have friends, and be accepted.  They thrive with praise and success and wilt under repeated failure.   Just like everyone else.
Learning disabilities have been called the Invisible Disability because in so many cases, you would never suspect that these students struggle in school.  We have a Learning Center full of bright, motivated students who struggle, sometimes quite terribly, with reading, math, writing, speaking, or getting their work done.  But outside the academic arena, they are athletes, musicians, artists, actors, and Legomasters.  They are silly, friendly, motivated, and kind.
So learning differences don't really make them that different – they're just kids, after all – but learning differences do get in the way of students working as comfortably and independently as they should.
Thankfully, this can change.  It's not a quick and easy fix, but it's not a forever process either.  With intensity and consistency and an emphasis on improving the weak underlying thinking/learning skills that are causing the problem, children, teens, and adults can eliminate or dramatically change their learning or attention challenges.
Do you want to better understand your child's learning or attention challenges and what can be done to make a real change?
Click HERE for our Parent Information Video!
Ready to take the next step?
Speak to a Learning Specialist to learn more about the results from students and parents at Stowell Learning Centers.