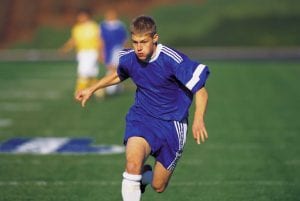 We love our sports, but parents beware
Growing up, my mom flatly refused to let my brothers play football.  It wasn't because my dad loved baseball so much, but because of the possible head injuries associated with football.
We are a pretty sport-driven society.  Most of the children and teens I know play some kind of organized sport and when my kids were growing up, we were among the families who spent nearly every afternoon and holiday involved with sports.
There is huge benefit to movement and regular exercise, not to mention the social, teamwork, and self-discipline aspects of organized sports.  But there are also risks, which as parents, we need to be really aware of, so that we can enroll our kids in sports thoughtfully, and know what to look for if injuries happen.
Sports Illustrated ran an article this week about Briana Scurry, Olympic and World Cup winner in soccer, whose career ended with a concussion.  The article mentioned a study saying that 50% of girls who play soccer will suffer at least one concussion and that girls' soccer has the highest rate of concussion among high school players after football and boys ice hockey.
The very first thing that my son had to do during his brief stint as a professional ice hockey player was to take a cognitive test.  A professional hockey player who gets a significant blow to the head is immediately sent to the locker room to retake that cognitive test to see if anything has changed, indicating a concussion.
A concussion has a myriad of symptoms and can affect balance, movement, thinking, academics, and emotions.  As parents, we are not likely to have cognitive tests at our disposal, but we do need to be aware of the potential dangers of the sports our kids are engaged in, and in particular be aware of the symptoms, consequences, and treatment of concussion.
At the Learning Center we work with students of all ages who struggle with learning as a result of dyslexia, learning disabilities, inefficient processing skills, and unfortunately, traumatic brain injury and concussion.
Our experience and the brain research over the last 30 years has shown that most learning challenges can be dramatically improved or completely corrected through targeted and intensive brain training coupled with remediation of affected academic skills.
If you or your child struggle with learning and you would like more information,
JOIN US for a FREE Information Night.
Get a better understanding of what is happening with you/your child's learning and what can be done to change it.  Go to www.learningdisability.com for details and RSVP.
Ready to take the next step?
Speak to a Learning Specialist to learn more about the results from students and parents at Stowell Learning Centers.