"As a pediatric Speech-Language Pathologist with a special interest in foundational learning readiness, I am keenly aware that poor or delayed early speech and language development quite often leads to literacy challenges. Research has proven it.
The good news is that this can be avoided with early detection and corrected with the right interventions.
Jill Stowell's expertise in the area of learning challenges and how to remediate them is remarkable, and she is a phenomenal resource for me professionally. "Take the Stone Out of the Shoe" is a must read for parents, educators, and even therapists, who work and live with children with learning differences.
Thank you, Jill, for providing this easy to read, and very relatable work."
—Stacy Payne, M.S., CCC-SLP, CLE, Pediatric Speech-Language Pathologist, ADHD – Certified Rehabilitative Services Provider, Executive Director, Bright Beginnings Pediatric Services
SMART BUT STRUGGLING, WHAT DOES IT MEAN?
How your struggling student feels based on real life stories of students and families that have attended Stowell Learning Centers
TOOLS AND TECHNIQUES FOR PARENTS AND TEACHERS
Easy, practical strategies for parents and teachers for supporting struggling learners with attention, behavior, executive function, comprehension, reading, writing, spelling, math, and more
The Research and Evidence Behind the Strategies
What's really at the root of dyslexia, learning, and attention challenges
What real solutions look like and the science behind them
"As a psychotherapist specializing with children and their families and as a Parent Effectiveness Training (PET) instructor for 30 years, I see the incredible value of this book.
Learning challenges potentially can create longterm emotional and psychological challenges for children throughout their childhood and far into adulthood. These difficulties also take a toll on families creating power struggles and fights if not dealt with, with tools, support and understanding rather than frustrations, disappointments and punishments.
This well thought out book includes a section that offers support and understanding of the child's perspective and parents concerns.
There are examples and personal experiences in the book to make the read clear and accessible. Most will see glimpses, if not more than a glimpse, of their situation. There are names to the challenges and red flags to look for. The second section gives strategies of ways to help. I read so many great ideas here—very practical strategies, ideas of things to try to help your child and reduce the stress in your home.
And lastly in the third section, you will find the science and evidence behind the challenges and solutions. This will provide you with the hope you need to enable your child to grow, develop and blossom to their full potential.
I enjoyed reading this book so much. Kudos to Jill Stowell and thanks for sharing her great knowledge and long time experience in this field of learning challenges.
It's a real gift to parents, children and professionals."
—Stephanie R. Bien, LMFT, LPCC, Founder of Insight to Teen Culture
Jill Stowell's passion for changing the lives of children and adults with dyslexia and other learning challenges led her from a small private practice to founder and executive director of Stowell Learning Centers for over 35 years; two time #1 Bestselling Author; program developer; and trainer and consultant for the national Fix Learning Skills network of centers for correcting learning and attention challenges.
Jill holds California teaching credentials in elementary education and learning handicaps, an MS degree in Education, a California Resource Specialist Certificate, and the Dyslexia Remediation Specialist Certification. She taught seven years in public school in mainstream, gifted, bilingual, and special education programs prior to opening the learning center.
She has trained hundreds of public and private educators in specialized learning programs, is a speaker, frequent podcast guest, and the host of the LD Expert Live broadcast and LD Expert podcast.
Jill lives with her husband in Southern California, has two wonderful adult children, and loves to bike, travel, and read.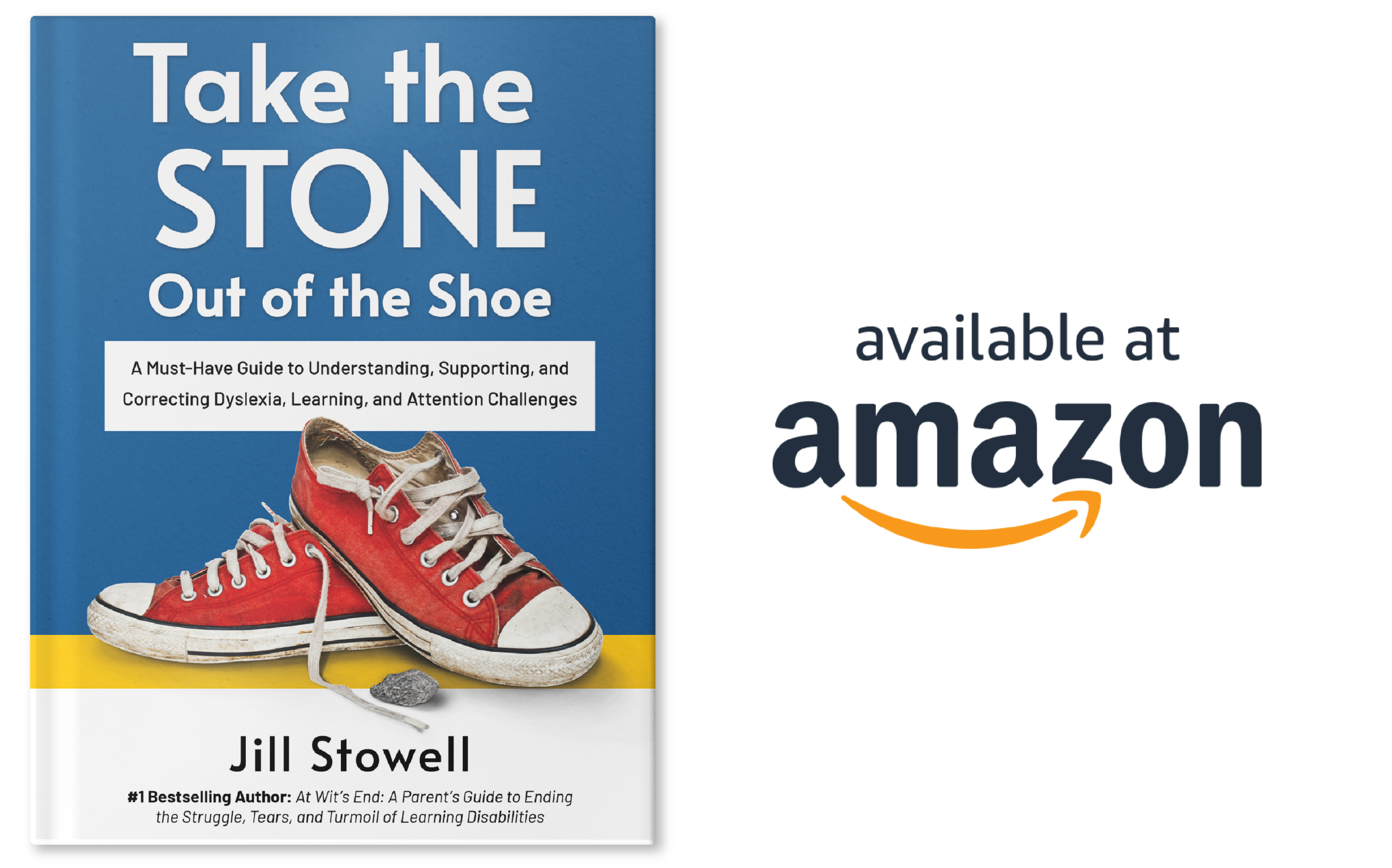 Available in paperback and Kindle.
Help Spread the Word
Did you have an "Aha!" moment or gain deeper insight from reading "Take the Stone Out of the Shoe"?
Please take a minute to leave a review.
Share your favorite chapter or a takeaway that would benefit students, parents or professionals.